Prosper Borrower Promotion: 2nd Payment Waived Up To $250 (Friday 10/21 Only)
Person-to-person loan site
Prosper.com
is having a one-day promotion for borrowers who submit their loan listing on Friday, October 21st where they will actually make your entire 2nd loan payment (principal and interest) for you, up to $250 (offer expired). Is this a good deal? I ran some numbers to find out. First, here is all the fine print:
* To be eligible for the second month payment offer (i) you cannot have posted a loan listing on Prosper.com within the past 30 days; and (ii)you must submit a loan listing by 11:59 am PT on October 21, 2011, that loan listing must result in an originated loan, and your first payment must be received by its due date. If you meet these criteria, Prosper will credit your second required loan payment up to $250 prior to the due date of the second payment. This promotion cannot be combined with any other promotional offer from Prosper. Offer not valid for 1 year AA loans. Eligibility for a loan is not guaranteed and requires that a sufficient number of investors commit to fund your loan. Refer to Borrower Registration Agreement for all terms and conditions. All loans made by WebBank, a Utah-chartered Industrial Bank.
Getting a rate quote is free, as their "soft pull" will not affect your credit score. If your loan does not find enough lenders to fund, then you can walk away with no obligation. If your loan does fund, it will show up on your credit report. I was curious how the math would work out, so I decided to try it out myself with a $5,000 loan. Here's the rate quote I was given, which puts me in the "A" loan grade:
Let's take the 1-year loan. There is a closing fee upon loan funding of 3%, which leaves me with a take-home amount of $4,850. The total payments would be $441.21 x 12 months = $5,294.52. So I'd be paying a total of $444.52 in interest and fees. Give the promotional offer of $250, that's over 50% of my fees and interest rebated.
The loan amount to maximize the relative effect of the bonus would be a $2,900 loan amount at 10.7% interest rate that results in a $255.90 payment. The total fees and interest of $257.80 would almost be completely offset of with the $250 payment credit. For longer loans, the relative effect will be much smaller since you'll be paying interest for 3 or more years. I got charged a higher interest rate when I listed myself as self-employed, so I listed my W-2 job as primary income for the lower rate. Borrowers must have a credit score of 640 or higher to qualify for a loan. The above scenario is my own, your interest rate may vary. Get your own rate quote at Prosper here.
(Update: I went ahead and also got a free rate quote from LendingClub – their main competitor – but there all loans from $1,000 to $11,975 are only available with a 3-year term. With the loan rebate, I think Prosper would have had been the best 1-year rate anyway. However, my rate for the 3-year loan was only 6.78% APR (their highest A1 grade), which is much less than the Prosper APR. It can pay to shop around.)
Bonus Credit Score: After getting the free rate quote, I was actually sent my credit score of 776 based on my Experian credit report. Prosper uses the Experian ScoreX Plus credit score, which has a range of 300 to 900. FICO range is 300 to 850. I assume this is due to new consumer laws that require them to send me my score if I'm not given the absolute best rate available.
Credit Sesame: Free Credit Score Based on Experian
Another new website,
Credit Sesame
, now offers you free credit scores and updates based on your Experian credit report. No credit card required, no trial required. This is not a real FICO score, but an estimate of the FICO formula that uses the same range of 300-850. To avoid repeating myself too much, you can learn more about FICO vs. FAKO credit scores here.
Sign-up Process
The sign-up process was quick and relatively painless. They ask you for your home address and household income, but this is primarily to see if they can save you money on a mortgage refinance. (This is one way they make money.) You'll also need to answer three questions based on your Experian credit report data to verify your identity.
Online Security
To get your credit score, you will need to give them your Social Security number. You'll have to decide for yourself if you feel comfortable doing this. They do claim all of the usual security measures, including 128-bit SSL encryption, password encoding, and working with Experian to test their systems. They also do not sell personal information, but will use it to target potential offers to you.
The information that you provide – including name, date of birth, email, real estate ownership, home address, social security, and any information about your finances (income, assets, debt, credit) – is not sold to third parties.
My Credit Scores
Here's a screenshot of my current credit score according to CreditSesame:
My score of 696 is actually kind of low for me. Compare this with my score from
CreditKarma
, which is a similar company but uses the TransUnion bureau credit report:
Why the big difference? After some research, I finally remembered why my Experian score may be lower. Over 2 years ago, I found out my old library sent me to collections over a $40 overdue book that I returned. This annoying ding only shows up on my Experian report. To be honest, I haven't bothered to dispute it because now live in another state and I've been approved for every single credit card since finding out. Another reason is that when you apply for a credit card, they usually only check one out of the three bureaus (Experian, Equifax, TransUnion).
This brings up the primary benefit of these free FAKO scores. Having three independent credit bureaus means we all have three different credit scores. These regular updates can show you the effects if different bureaus have different data. They are also handy for checking if there is a big change in your credit score, including someone using your identity or simply an erroneous debt assigned to your name.
You can use CreditSesame for Experian, CreditKarma for TransUnion, and
Equifax Score Card
for Equifax. All free.
Debt, Debt, and More Debt
After seeing this household debt bubble chart, I've been especially sensitive to news about consumer debt. Here are some recent stats from across the spectrum:
Mortgages
According to real estate data firm CoreLogic, 22.7% of US homes with a mortgage had negative equity in the first quarter of 2011, meaning the outstanding mortgage amount was greater than the value of the property. That's 10.9 million of them, and another 2.4 million had equity of 5% or less, which means with any further drops they'll be in danger as well.
Nevada was the state with the biggest share of homes underwater, at 63% of all mortgaged properties, followed by Arizona (50%), Florida (46%), Michigan (36%), and California (31%). Goodness.
Home Equity Loans
The same report also found that a hefty 38% of borrowers who took cash out of their residences using home-equity loans are underwater. By contrast, only 18% of borrowers who don't have these loans were underwater. Check out all the home equity extracted up until 2008, which is slowly being paid back now.
Is there some good data about what all this money bought?
401(k) Loans
Human-resources consulting group AON Hewitt reports that nearly 30% of 401(k) participants currently have a loan outstanding, the highest in recent history. On a purely interest-rate level, these loans can actually be a pretty good deal. (Don't listen to the double-taxation myth perpetuated by Suze Orman and others.) However, you have the potential penalty of losing the preciouis tax-deferred benefit plus a 10% penalty if you don't pay it back in time (and if you lose your job, it's due even sooner). Still, having nearly a third of all people dipping into their retirement money can't be a good thing.
Chart: The Household Debt Bubble?
Economist Paul Krugman says that fragile banks are no longer what's holding back economic recovery, it's housing and household debt. We already saw that housing prices are dropping again, and yesterday he pointed out another chart of household debt as a percentage of disposable personal income over time:
CMDEBT stands for household credit market debt outstanding, and from what I can tell includes mortgages.
DPI
is disposable personal income.
Why You Shouldn't Use Debt Settlement Agencies
The following is a guest post from reader Daniel Gershburg, Esq., who writes about the inner workings of debt settlement agencies. Daniel is a bankruptcy attorney in New York and New Jersey.
Over the past several years, our economy has gone into the tank. Rampant unemployment, underemployment, in fact a near collapse of the financial system have completely reshaped our financial lives. Millions of Americans are in credit card debt over their heads and can't afford to pay even the minimums. And the creditors have, in many cases, several cut credit lines and hiked our interest rates. In a situation like this, a debtor basically has three options.
The first option is to file for Bankruptcy.
While I think it's the soundest option, both with regards to ones credit and future financial well being, I'm also a Bankruptcy attorney, so of course I feel that way.
The second option is to try and settle with credit card companies
and bring down your interest and pay off your debt….good luck with that. They're about as interested in settling with you now as you are in buying an investment property in Las Vegas.
The third option, and the option I'd like to discuss in depth here, is employing a Debt Settlement company
to try and settle the debt for you. This not only, in my opinion, is the worst option of the lot, but based on what these companies claim, may border on fraud. Literally, fraud. Here's why:
The promise of bailouts
Turn on the radio or the TV and you'll hear absolute nonsense about how debt settlement companies can reduce the amount you pay to your creditors by up to 80%. One, called the Obama Credit Card Relief Program (I'm serious) promises to Cut Up To 70% Off Credit Card Debts under "Bailout Relief". Again, absurd. The claims that many of them make aren't even mathematically feasible based on most people's budgets.
Many of these companies also make claims that they are Not for Profit companies. You hear that and you think of people planting trees, feeding the homeless in soup kitchens, and you begin to almost subconsciously trust these companies. The IRS did a little research into these feel good claims. Here's what they found:
Over the past two years, the IRS has been auditing 63 credit counseling agencies, representing more than half of the revenue in the industry. To date, the audits of 41 organizations, representing more than 40 percent of the revenue in the industry, have been completed. All of the completed audits have resulted in revocation, proposed revocation or other termination of tax-exempt status. [Source: IRS.gov]
How do debt settlement companies really work?
Lower Your Credit Card APR: Phone Script from DebtGoal
DebtGoal is a new site that helps you track and manage your debt-reduction goals (as opposed to a debt settlement company). After the free trial, it runs $11.95 per month. One of the things they do is try and guide you to lower the interest rates on your credit cards. Here's a sample script that you can try out yourself for free, which is quite simple but probably also effective:
Hello, my name is _______________. I have been a cardholder since ____. In the past few months, several credit card companies have offered me lower rates than my current rate with you. I value my relationship with you, but I would like you to match the other offers that I have received and reduce my interest rate by ___%. Are you authorized to adjust my interest rate?
It can be handy to actually have offers or other cards in front of you that really have lower rates. Depending on their response, you could also throw in one of these:
"Are there other people who have the authority to lower my rate? May I speak with them?"
"Do you have a promotional rate that I can take advantage of?"
"What would I have to do to get a lower rate? Can I call back later when I meet those criteria?"
"Can I qualify for a hardship program?"
Any other success stories or tips?
There was a great response to my last Ask The Readers post: Parents Losing Home To Foreclosure!, so here's another interesting question from one reader who'd like the input from other readers (yes, you!). It a variation of the old saving vs. paying down debt debate:
My wife and I were having a debate about savings as it relates to our home equity line of credit (HELOC). She has been brought up under the mantra of "always have at least 3 months of savings available," which is fine by me, since I've always been a saver. Prior to getting the HELOC, we saw eye to eye pretty well. Now that we have a HELOC with about a $20k balance on it, I no longer would like to put any of my extra funds into a conventional "savings" account, but would rather use it to pay down the balance on the HELOC. To me, this is a game of interest rates — the HELOC is at 3.99% and the savings account is about 1%. I'm an IT guy who likes to see things in black-and-white whenever possible, and this is a case of that. As such, I'm willing to keep a ZERO (or negligible) balance in my savings account and just transfer funds from the HELOC account whenever we need money. I'm having a hard time selling her on this idea, though.
As I see it, I'd rather have $0 in my savings account and and $11k balance on my HELOC, whereas she'd rather have $9k in savings and a $20k balance on the HELOC. Even discounting the tax advantages of a HELOC, it seems like the higher interest rate accrued on the HELOC debt should override the low interest on savings. To me, it's all one pot of money with differing interest rates. What's your take? I'm sure this isn't an uncommon circumstance.
The Liquidity Factor
This doesn't directly answer the question, but I felt like one missing consideration is liquidity. Are home values decreasing in your area? How much home equity do you currently have? Unless it is a very high number, you may be in danger of having your HELOC frozen by your bank, which means you could be unable to borrow any more money at 3.99%. Many banks have been doing this recently.
If you were in the $0 in savings and $11k balance scenario and needed $1,000 to fix the car or more for some other emergency, what would you do without the HELOC?
I am guessing that this is the situation that might worry your spouse, it would worry me!
Readers, what would you do?
Five Ways To Get a Free Credit Score (No Trials)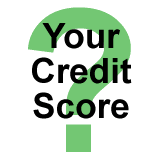 Yes, there's AnnualCreditReport.com for free credit reports. But what about your
credit score
? I've mentioned a couple of these before, but here is a compilation of five different ways to grab that credit score for free without the hassle of annoying trial offers. I repeat: No free trial membership required, no credit card number required, nothing to cancel
.
Remember, everyone has three credit scores, one from each of the three major credit bureaus: Experian, Equifax, TransUnion.
Credit Sesame
Every month, Credit Sesame can offer you a credit score based on your Experian credit report. They also offer tips to improve your score and qualify for a mortgage. Here's a screenshot of my current credit score.
CreditKarma
CreditKarma.com
is an ad-supported site that offers you the ability to check your credit score daily, called a Transrisk score, based on your TransUnion credit report. The score range is the same as FICO, from 300-850. You don't get your credit report details, but you do get a few tips on what recent changes to your credit report have impacted your score.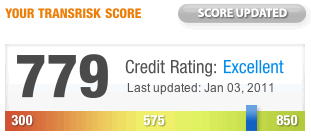 Equifax Credit Score Card
The
Equifax Credit Score Card
comes directly from Equifax and provides a free credit score range of Low (280-559), Below Average (560-659), Average (660-724), Above Average (725-759), and High (760-850). It's called the Equifax Risk Score. FICO has a range of 300-850, and this range is 280-850 so you don't really have to do any scaling. It doesn't provide any specific data from your Equifax credit report, but it does include a short summary of any negative factors that you may have on your report.

Prosper Person-to-Person Lending
Prosper Lending
provides a free credit grade for prospective borrowers, based on your Experian credit data. If you don't actually finalize the application for the loan, they will not check your credit. They do offer some good rates on personal loans, if you are looking to consolidate credit card debts. Here's a partial screenshot of my profile: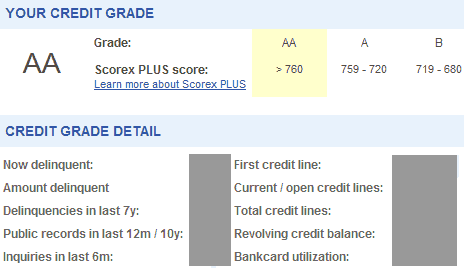 LendingClub Person-to-Person Lending
Similar to Prosper, if you start an application to become a borrower atLendingClub.com they will check your credit on your behalf to find out what rate they will charge you. Instead of a numerical score, you will get a grade like "A2″ or "B3″. Then you can use this key (scroll down to Table 2) to determine your credit score range. For example, A2 would indicate a score range of 747-769. It is also based on your TransUnion credit report.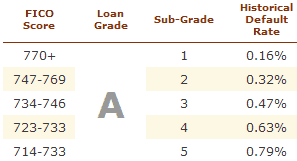 You will need to provide your personal information and Social Security number to these companies, naturally, so be comfortable with that. Unless otherwise noted, none of these methods by themselves will affect your credit score as you are requesting them for yourself.